Lucentum Productions, a production company based in Alicante, Spain, uses Celtx Pro to write their scripts and organize their shoots. They have more than 20 years of experience producing short-form and long-form audiovisual projects in multiple languages, both nationally and internationally, and Celtx Pro has become an integral part of their workflow.
The Lucentum Productions team can be asked to produce upwards of 110 short-form videos for a single client alone, and usually has a single Director and Production Assistant in charge of making sure everything runs smoothly on set. They were relying on spreadsheets and Word documents to organize their scripts, catalogs of props and characters, and shoot schedules.
When it came to production management, they were using tables to organize shoot days by location or characters into the right order for filming. This process was prone to error, and they needed a better solution. (Spoiler alert: that solution was Celtx Pro.)
"We do quite a lot of projects every year, and we have a small team; this means that we need as much help as we can get with pre-production and production management. Celtx has been a fantastic tool, and from the moment we started using Celtx, we realized it was the perfect way to standardize client communication and facilitate a good flow of feedback. The Multi-Column AV format, Schedule, and Breakdown features have been time savers – and the Celtx Team has managed to make us feel like we are on the team with them."

Chema Bazán,
Owner, Lucentum Productions
The Lucentum Productions team produces a wide variety of content for a company of 11 professional creatives, with a focus on offering full production services for institutional training, educational videos, and commercial production. Lucentum Productions' biggest clients are educational publishers in the field of foreign language education. They work with publishers like Pearson, Cornelsen, Carnegie Learning, Cambridge University Press and many others in the US and Europe; you might recognize these names from university or college textbooks.
Outside of the Multi-Column AV format that the Lucentum Productions team now uses for scripting their videos, the most important time-saving Celtx tools that they've adopted into their workflows are the Breakdown, Catalog, and Schedule. Being able to have readily available lists of props and actors, and having the ability to sort scenes by characters for scheduling, has made their production process faster and easier to accomplish.
The Breakdown and Schedule have really been time-saving features for us. Our projects usually include smaller sections of dialogue from a wide range of characters, which can make scheduling difficult. From a content perspective, scheduling scenes in the right order is paramount. Having all the required props listed, and being able to visualize how many scenes we could fit into one session with a particular character, makes planning shoots so much easier."

Chema Bazán,
Owner, Lucentum Productions
---
If you'd like more information on how Celtx Pro can help your team to streamline your video production workflow, contact our sales team. Our product experts will show you how you can stay on schedule, stay on budget, stay organized, de-stress the process, and create great content with Celtx Pro.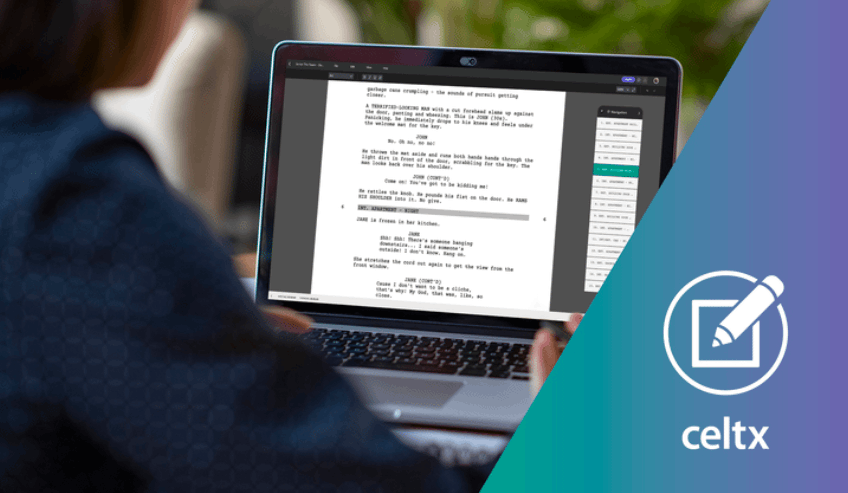 Interested in reading about how other professional teams use Celtx to take their concepts from script to shoot? You can check out more Celtx Perspectives right here on our blog: Perspectives: Getting Inspirational with Life.Church, Perspectives: Teaching Filmmaking With The Science Leadership Academy, Perspectives: Going to Mars With Lockheed Martin.